It's no secret that we have a busy family. Among therapy schedules, running a company, and homeschooling, our days are full. Our daughters have taken piano lessons for a couple of years and blessed to have a teacher nearby who can accommodate our schedule. But what about those who want to learn but can't fit in traditional lessons? I've seen books and programs that allow users to teach themselves how to play piano, but do they work?
While my daughters were already taking piano lessons, my husband encouraged me to embrace a review opportunity for HomeSchoolPiano, an online piano program for all ages. Now that I understand how the entire program works, I'm glad we had the flexibility to move among the levels by having access to the full HomeSchoolPiano–Complete Set of Books.
Two things about this program caught my husband's attention:
online piano lessons enabling a student to move at his or her own pace that would fit around our schedule
improvisation and ear training (this being the most important)
As a musician himself, he believes that without improvisation and ear training, a student won't fully have the skills required to perform. Our piano teacher is fantastic and our oldest daughter is one of her best students; but she can only play what's written on the page. My husband also noted that many times when he's asked to perform, he isn't given sheet music but is usually only given a demo before performing in front of a live audience.

Our Experience
We have varying levels of music instruction. My two daughters, my son, and myself used the HomeSchoolPiano program.
My 7th grade daughter, who has a couple of years of instruction, could've easily started at Level 2. While she followed along adequately, we moved her back into Level 1. Wille's teaching style is different compared to her usual instructor and we wanted her to have a good understanding of the material. When I asked if she's learned anything new, the first thing she mentioned was improvisation, followed by ear training! HomeSchoolPiano fulfilled its premise. She also said that her understanding of rhythm is stronger.
My 3rd grade daughter needed to begin with the Core Piano book but moved quickly into Level 1.
My 5th grade son had a great time. We started him on Core Piano and allowed him to move at his own pace. While he had a few months of instruction under his belt, his teacher was concerned about his not moving forward and believed that continuing lessons would only frustrate him. We wondered if he would be more suited to a different instrument even though he very much wanted to learn piano.
As I walked into the room one evening, I heard my husband call out, "Do you hear this? He's playing! He's playing improv!"
It turns out our son has rhythm! And while he may struggle to play something as written, HomeSchoolPiano helped bring out underlying talent. Since the program is completed in the privacy of our own home and at his own pace, he's able to continue learning without fear of falling behind or wondering what others may think.
As for myself, I've always wanted to take piano lessons. I have a background in voice, and can read sheet music for voice, but not piano. Now that I'm a homeschooling mama to six, my schedule is so tight that I don't have time to attend traditional lessons.
I started with Core Piano, and I was able to quickly work through the entire core program before going into Level 1.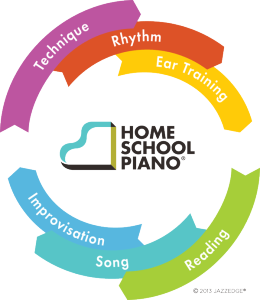 The Different Levels
Core: The core level is for the beginner who has absolutely no experience playing piano. As mentioned above, my daughter and son, who had some experience, needed the reinforcement. If you feel you or your child are at a more intermediate level, it may be wise to review the core level.
Topics include everything from how to sit at the piano to the five finger scale, plus:
Time Signatures
Treble and Bass Clefs
Symbols
Notes
Bars and Measures and more
Everything you need for a solid foundation is included on this level.
Level 1: Level 1 is for beginners. Those who completed the core level were able to move into Level 1 with no problems. Even after years of instruction, my oldest, experienced daughter found it challenging enough to keep her interested.
Level 2: Level 2 is for the beginner to intermediate levels. My oldest daughter could've easily gone straight into Level 2, if not for the difference in teaching style.
Level 3: Level 3 is for the intermediate level. My oldest daughter will move into Level 3 very soon. The rest of us will get there when we're able.
How it Works
After visiting the parent portal, I created student accounts with their own separate log-ins.
When it's time for a lesson, my child signs on to his or her account and moves through the programs via our iPad and a 61-key keyboard. Downloadable books are included. A family doesn't have to print these books, but it's nice to have them on hand. Our pages were inexpensively printed and bound at a local office supply store.
Once the student signs in, everything is well laid out and intuitive. For example, when my daughter began Book 1, she touched "Begin Unit" and moved through the different exercises, which included watching videos, practice, and quizzes. If she was confused by something, she could review the video. Everything is easily accessible through the computer and smart phone, but we liked that the iPad fits nicely on top of the keyboard.
Each book contains six units that cover:
Technique
Rhythm
Ear Training
Reading
Song
Improvisation
Bonus to challenge more advanced students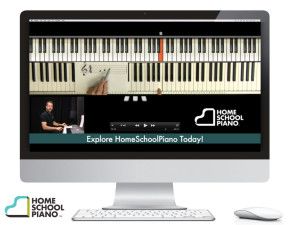 The Man Behind the Piano
What makes HomeSchoolPiano unique for us is the instructor, Willie. He obviously enjoys music, and his enthusiasm is contagious. He isn't a dry instructor that comes across as a drill sergeant. He loves music and wants to inspire others to "unlock the pianist within."
Customer service goes a long, long way for our family. Even if a product is excellent, I'll have reservations based solely on customer service. But Willie went above and beyond, staying in touch and readily available to answer questions. There were a a couple of server issues in the beginning, but not only did he work quickly to remedy them, he contacted customers, keeping them abreast of everything. His goal is to provide a superior product that families will want to use and enjoy.
As a parent, believing that he had genuine interests in my children being able to play piano, regardless of the level in which they arrived, gave me the confidence I needed to continue gently nudging our son in lessons. I'm glad I did!
Two of my children want to continue lessons with Willie–they say he makes playing piano fun and less stressful. My oldest is ready to return to her more traditional, in-person instructor. However, she feels she'll return a stronger student now that she understands improvisation and will continue to work through the levels.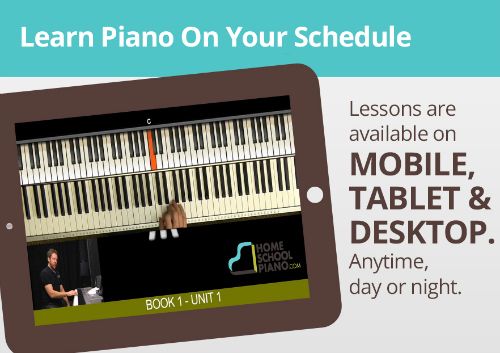 Costs?
HomeSchoolPiano offers two packages:
Success Package (One payment of $299):
Unlimited lifetime access to HomeSchoolPiano along with all bonuses (downloads, jam tracks, and sheet music) for up to 5 students.
Payment Plan
(Payments of $99.97 per month for three months):
Unlimited lifetime access to HomeSchoolPiano along with all bonuses (downloads, jam tracks, and sheet music) for up to 5 students.
Visit HomeSchoolPiano for more information and to sign up for a free trial lesson.
You can also find them on Facebook, Twitter, and Pinterest.


The "Build Your Bundle" – Homeschool Edition sale is here!

For one week only (July 21-28) save up to 92% on bestselling
homeschooling products, including MANY from Cathy Duffy's Top 100 list!




Take a look at the bundles:

Charlotte
Mason BundleThis bundle features complete curriculum using
the Charlotte Mason Methods for language arts, handwriting, and reading,
a full geography curriculum, a plethora of resources for studying nature,
artists, poetry, and a variety of "extras" just for mom!

Included are popular products: Write From History, Sheldon's
New Language Lessons, Handwriting Lessons Through Literature,
Fine Art Pages, Grapevine Bible Study, and more!

Learn all about Charlotte Mason and enjoy a special bonus (a $90 value
all by itself)—the top 5 best selling G.A. Henty audio books from Jim
Hodges Productions. This bundle is jam packed full of amazing resources
your family will love!

---

---

Tots
& PreK BundleTeach your littlest ones about God's amazing creation and the value of virtue using our Tot & Preschool Bundle!

Included are popular products from: We Choose Virtues, Character
Concepts, Grapevine Bible Studies, and more!

This bundle gives you a complete Christ-centered preschool program, including age-appropriate character-building tools, a stick-figure Bible study, a creation-based coloring book, a handwriting curriculum, an independent activity guide (for those times when you need a moment to focus), and much more!


K-3rd Grade BundleTeach your K-3 children basic skills and core truths through easily understandable
lessons and hands-on activities. Our K-3 Bundle includes reading, math,
science, handwriting, character training and Bible resources.

Your children
will experience life in 17th century America as they learn about the settlers
and our 13 original colonies. You will have everything you need to savor
these first days of discovery!

---

---

Elementary: 4-6th Bundle

This bundle features Wordsmith Apprentice from Common Sense Press,
a Cathy Duffy Top 100 Pick! Included is a science curriculum teaching Geology,
also from Cathy Duffy's Top 100 Picks.

You will also find "Mapping the Word With Art", a highly
acclaimed curriculum that has a blend of history, geography, and art. There
is more: Bible, handwriting and copywork resources, writing guides, timeline
cards, ancient history notebooking pages, creative writing for both boys
and girls, and an editable weekly homeschool planner for Mom – all for one
LOW PRICE!


Middle School Bundle

Your middle school students will tour the classical world and develop academic excellence using our Middle School Bundle.

This bundle features Learning Language Arts Through Literature and
two science curricula, one from Cathy Duffy's Top 100 picks, as well
as your choice of volumes from "A Child's Geography" – a complete
geography and history curriculum!

Also included is a popular history timeline/book of
centuries, Renaissance and Reformation notebooking pages, a classical music
curriculum and famous composers notebooking pages, and a creative writing
collection that even "non-writers" will love!

---

---

High School Bundle

Your high school students will develop academic mastery and intellectual maturity using our High School Bundle.

This bundle features a New Testament Bible curriculum, an introduction to
psychology, a full year of math curriculum, resources for world history
and geography, philosophy, home economics, college prep, grammar, a creative
writing collection that even "non-writers" will love, an anatomy science
unit study from Cathy Duffy's Top 100 picks, and more! You
will receive enough materials for a full year of high school!

Bundle Just for Moms!

Save money, strengthen your marriage, and streamline your schedule using
our Mom Bundle. Find the encouragement you need and the insight to speak
to your child's heart (even that difficult child!).

Whip your home into shape and train your children to do their chores effectively
with a Easy Peasy Chores ($18.99 value!) This bundle brims with useful
tools to help you bring calm to the chaos. Get them all for just $10!

---

Build
Your OWN BundlesWould you rather hand-pick your selections?
There are two "Build Your Own" Bundle Options!

You can choose any 5 products priced $19.99 and under for just $25 ~ a savings
of 75%!

You can choose any 10 products priced $19.99 and under for just $39 ~ a savings
of 80%!

SO many amazing products to choose from!


BUY MORE & SAVE MORE!




*Lots of ways to save!

When you purchase ANY 2 pre-assembled bundles you will get the 3rd
pre-assembled bundle of equal or lesser value for 50% off!
When you purchase ANY 2 "build your own" bundles you will get
the 3rd "build your own" bundle of equal or lesser value for
50% off!
Tell your friends about the "Build Your Bundle" – Homeschool
Edition Sale using our referral system that is found on the top
of the website! When 10 of your referrals visit our site using your
unique link, we will give you a code to save 10% off your total purchase!

*The B2G1 50% off offer applies to pre-assembled or "Build Your Own"
Bundles only.
Discount taken off the lowest priced bundle. See site for complete details and FAQ.
You might also be interested in:



Welcome to Mama Moment Mondays!
If you're featured below or have been in the past, help yourself to a featured button (you'll find the codes on the sidebar).
As usual, the weekly featured are based on your visits and will be pinned to pinterest and shared across social media.
3) Making Your Own Coffee Creamer
2) Choosing Joy
1) Dear Christian Parent, It's Not the Church's Job

Now, onto this week's link-up!
/>
Topics may include
homemaking
homeschooling
natural living
personal wellness
family-life
attachment parenting
working with or parenting children with special needs etc.
My rules are simple:
1) Please place a hyperlink in your post or a link-up button on your post or sidebar so others can find us and participate.
2) As a courtesy, please visit at least one other link and leave a comment for that blogger, letting her know that you've visited.
Positive comments are a great way to make a blogger's day.