Do you want to homeschool but feel overwhelmed by all of the curriculum choices? How about when it comes to actually buying the curriculum? My friend Erika, a veteran homeschooler, shares a few of her favorite budget-friendly homeschool resources: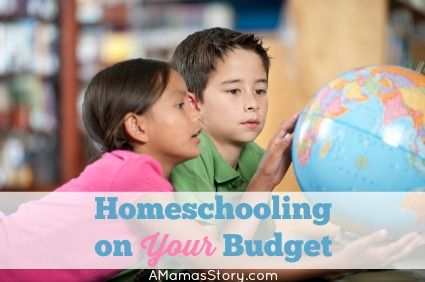 I've been on either side of the spectrum. Totally and 100% putting together my own curriculum and the opposite end of buying a 100% name-brand curriculum.
Let's take the first scenario.
You know you should homeschool, but the money just isn't there. What do you do?
First of all, you don't panic. You have everything you need to successfully homeschool right in your own home. The Bible is an excellent tool- not only to provide you with encouragement and direction in your homeschool, but also to help in subjects. History, Science, Writing, and Reading can all be covered with it! If you have a student who is reading at a 2-3rd grade reading level or higher, choosing a Psalm would fit appropriately into the reading plan. A higher grade student could read from a harder book, like Deuteronomy. History and Science can be covered easily beginning in Genesis. Handwriting can be taught by tracing over different biblical words or verses progressing to copywork and then later dictation. Math can be taught in the kitchen with a cookbook (which can also double as a reading lesson).
It doesn't stop there, though! Check your library out. I'm living in a small, rural town and we have a typical small, rural library. Not much there. We moved from a bigger, much nicer library that had a great selection of books. During that time I was able to come up with my own lesson plans and then check out appropriate books from the library. That all ceased when moving here, though. If you have a good library- utilize it! Figure out what you want to study about and check out all the books you need to go along with it. Want to study Van Gogh? Check out a book about Van Gogh! Want to study about Antarctica? Check out a book about Antarctica! Even if you have a really small, rural, slightly pathetic library- utilize it! Allow your children (and yourself) to check out books about various topics to fill in any gaps you might be missing! If nothing else, allow them to develop a love for books!
Another awesome resource that most people have is the Internet. This has been my friend for YEARS!
Lesson Pathways offer free curriculum for PreK-5th grade. The curriculum covers math, Science, History, Language Arts, and reading/phonics.
Khan Academy is a free Math curriculum for ALL ages- including up to trigonometry!
Looking for some Math for younger kids? We love IXL Math. They actually have it up to 8th grade and Algebra/Geometry. You can buy a membership and have unlimited practice, but you can also practice daily for free too. The membership isn't very much, but I have found that the amount of free time allowed isn't really worth it to us to invest in the membership.
Google is also a good friend of mine. Free worksheets and printables are available for just about anything!
Need handwriting paper? Check out Donna Young. She has lined paper to print, printable things to trace, and more! Even for cursive!
Looking for spelling lists? What about K12 Reader? Their resources don't just stop with spelling words either!
My point is- it's out there. If money is an issue or you are interested in coming up with your own things, do it! I don't generally even attempt any set curriculum for preschool or Kindergarten. Even though I have ones that want to do school like their big siblings, I have always chosen to use my printer and Internet. Letter of the Week, TLS Books, and Kidzone are my go-tos for the younger grades.
One last suggestion, especially when it comes to younger grades, keep it hands on! Don't worry about having a set Kindergarten curriculum- allow free play. Sure, worksheets are great, especially if they want to do it, but let them learn by playing with play-doh, finger painting, and building with Legos!
What about if your budget allows for some curriculum?
I usually like to put things into priority. While I might really like this name-brand handwriting curriculum, are we okay with using regular copywork from something printed out?
I also think about how useful my purchase might be for any future students. We are big fans of Switched-On Schoolhouse because you can have up to five students per subject/disc AND the disc can be reused! All you need is that current years installation disc- no biggie! So while my 3rd graders are diligently working away on their SOS Math, I know that in 3-4 years when my Kindergartner gets there I'll be able to use that with him. In my mind, it was a good investment.
The other things we have invested in are our Science and History books. Most of the time, Science and History are reusable, but even if you have a slightly outdated book it's pretty easy to bring it current. Say your History book ends with George W. Bush- go utilize that library (or the Internet) and learn about Barack Obama!
And don't forget, buy used whenever possible! Our Science and History books were both bought used- Amazon, Ebay, and even online homeschool swap shops are awesome ways to be budget-minded!
And if you can afford a full, name brand curriculum- GREAT! Any of the above suggestions can be applied, too. Learning doesn't have to stay in with what the boxed brand says! Hit the library or Internet! Play extra computer games! Dig into the Bible!
Do you have any tips for homeschooling on a budget?