I have three. Three boys.
Born into a large family of only girls (five lovely ladies), I didn't know what to expect when I learned my second child was a boy. I immediately called my best friend and cried to her, "What am I going to do? You have to help me!"
"You'll be OK," she replied through muffled laughter.
While I taught boys during my teacher days, I'd never parented a boy and was more than a little uncertain of my abilities.
My first boy was very laid back, my second boy was the complete opposite, and my third boy threw me for a loop. I have the privilege of mothering three strapping, very different, boys, rearing them as future leaders in this world.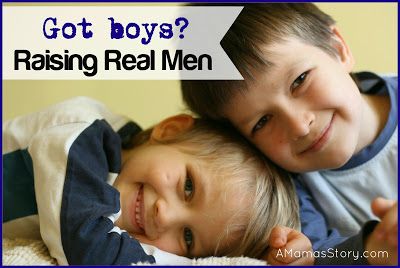 Yes parenting boys is very different compared to girls. They have an inborn sense of adventure, curiosity, and rough-housing that I hadn't witnessed in their sisters.
Sometimes I wonder if we're parenting them incorrectly, since they're so uniquely different, and because two of our boys have special needs.
Having worked on a project with Melanie Young, a mother to six boys, and meeting Melanie and her husband, Hal, at the Teach Them Diligently conference, I knew they held wisdom we needed! After I bought their entire CD collection, I was also blessed to receive a review copy of their book Raising Real Men: Surviving, Teaching, and Appreciating Boys.
My husband listened to the CDs and I read the book. (I highly recommend the mom and dad special.)
Even though we've always been supportive of our boys, reading the chapters convicted my heart as a mama to these fellas. Everything from allowing the odd "superhero" (vs. a real life hero) into our day to how I react when I see one of the boys struggling and my "nurturer mother" self steps in to help, caused me to reflect on a few things.
In reality, I want my boys to have real-life heroes to look up to. And it's a joy to see how they stand up a little straighter and beam with accomplishment when they've helped mama around the house by opening my door, carrying in groceries, or building a fire after hearing that mama is cold. Even my two-year-old son works diligently to carry bags that are bigger than his entire body into the house.
Our Father made our boys to grow up to be leaders. They will lead in the world and lead in the church. Even those who aren't called to lead the church and never have the opportunity to lead the community, those who seem destined to be subordinate will still lead their families. (pg. 102)
The Youngs cover topics such as stewardship, appropriate ways to disciple, encouraging chivalry (manners), and preparing for marriage and the world. There's even a chapter on kitchen duty!
The chapter that made me jump up and down with excitement the most was "Your Own School for Boys." If you're a mama to a special needs son, read and re-read this chapter. And then read it again!
Every few sentences I told my husband, "It's like I'm reading about our own sons! This is amazing!" While my oldest son has an autism diagnosis, it was inspiring to read how other typical boys share many of his developmental delays and "quirks."
If your young man struggles with developmental delays, ADHD, hyperactivity, etc., you'll find this chapter an encouragement.
Overall, reading the book reinforced the tremendous responsibility of bringing up boys. It reminded me of how their needs are much different from our daughters', and the importance of making sure we meet those needs.
A concluding note for fathers from my husband:
I've read plenty of Christian enrichment books, so when my dear wife passed me yet another, I embraced it, albeit with a little reluctance. You know what it's like–work through ten chapters to uncover the one truth we're expected to take away from our time in the pages (or CDs in my case). The biggest surprise about this book? It's refreshingly different from those works which adorn the shelves of the Christian book stores.
As opposed to a single message, what I experienced was something akin to Proverbs. Section after section with bite-sized gems to chew on make this unlike the typical "read and discard" experience. Rather, it is a reference you want to go back to time and again for advice and encouragement.
If you are fortunate enough to have the audio version, this CD set makes a great drive-to-work companion. It is also a great way to begin your day or prepare for your evening family time. In short, if you're able to get ahold of this book, you won't regret it.
To learn more about the Youngs and their ministry, visit their site, find them on Facebook, and follow them on Twitter.
If you're looking for great audiobooks for your sons, ours enjoy listening to the Hero Tales from American History.
Free Guide For the Natural Living Mom
Want to know how to use essential oils and herbs in your home? In this guide, I share my top 10 favorites.
Plus get our latest content and news, including giveaways and freebies for the natural living and homeschooling mom.