My 2nd grader is a free-spirited, ultra creative child.
Unlike my first-born daughter, who thrives on textbooks with a splash of literature-rich material,  her little sister is a very different learner. Artistic and even a bit eccentric, her eyes glaze over when presented with similar educational choices.
After shelving most of our subjects to get her on track for reading, the moment came to re-introduce other topics, and the opportunity to review the Science4Us.com Online Subscription arrived at the perfect time.

At first I wondered if she would like an online course, but as soon as I saw the demo, I knew she'd enjoy the program, which is targeted for K-2nd graders, and provides review material for children in grades 3rd-5th. Needing a second grade science curriculum, this was a no-brainer.
To access the program, there's a teacher/parent portal and a student portal.
About the Teacher/Parent Portal:
I found the teacher/parent portal overwhelming at first, but after viewing the tutorial videos, which explain the teacher tools, lesson planning, etc. I felt at home. Navigating the lesson plan section became easier, and I was able to create my daughter's assignments, according to different subjects:
Inquiry
Physical
Life
Earth/Space.
Under these categories were several sub-categories from which to choose.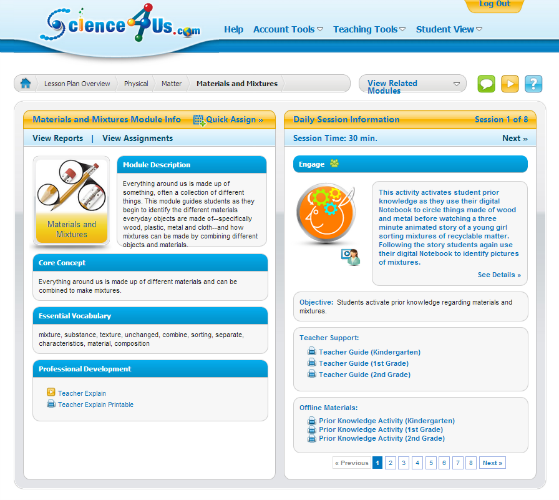 I selected the category I wanted and clicked on Quick Assign. This enabled me to choose the specific assignments I wanted my daughter to do, including when I wanted the assignments to begin and to end. Teacher guides, according to grade level, are included and a tremendous help for explaining the lesson to the child. A few grade-level worksheets are also provided, which help the student to go in-depth. All of these resources are available to print directly from the site.
From my home screen, I'm able to manage all users, track their progress, add, edit, and delete assignments.
About the Student Portal:
True to my expectations, my daughter's initial reaction was pure elation. The bright colors and multi-media interface captured her attention from the start, and she's yet to become bored.
We've used online programs for our older children, but this was the first time she was given her own online school experience. Science4Us.com has the young learner in mind, and I appreciate how easy it is for her to view assignments. She knows to click on the first icon under My Assignments and starts work.
Take a look at this shot from a lesson from the Life Science section. She enjoyed the catchy tune, as did her five-year-old and even her nine-year-old brothers!
As part of the lesson on weather, our entire family enjoyed watching the video on severe storms and my daughter had fun circling items needed for rainy weather.
My daughter's least favorite parts are the worksheets and the quizzes, but for families who use these methods to gauge learning, you'll enjoy this benefit. As we progressed, she became used to them and retained more information. The worksheets and the quizzes aren't necessary for making this a quality program, but they're available if desired. The teacher guides provide great opportunities for discussion and hands-on learning which is the path we utilized most.
While science is the main focus, math, reading, art, and even some Language Arts are incorporated.
If your child isn't the free-spirit like my daughter, Science4Us.com is versatile and easy to modify to fit your child's learning needs. As I mentioned earlier, my 5-year-old and even my 9-year-old both watched the lessons intently. My oldest daughter would've enjoyed Science4Us.com during her early elementary years and would've begged to do the quizzes, worksheets, and any other extras that were available.
As all children, mine learn in their own way and my daughter has enjoyed her experience with Science4Us.com. She even asks to do it first thing each morning, which lets me know that she isn't becoming discouraged by the heavier assignments. For a child who would love nothing more than to do art for every subject of the day, I liked seeing her engaged and enjoying science.
Overall, Science4Us.com is a great fit for my ultra-creative 2nd grader, and I believe it would be a great fit for my other children, too. The flexibility for customizing lessons allows accommodation for a variety of learning styles and with all of the choices available, could provide a school year of learning opportunities while working as a supplement for others who can't get enough science! The monthly subscription rate of $7.95 per child is also reasonable, considering all that's available to both the parent and the student.
And if you're an iPad family, it looks like an app will be available later this year!
To keep up with the latest from Science4Us.com, like their page on Facebook, follow on Twitter, Pinterest, and join them on Google+!


Sharing with A Proverbs 31 Wife, The Modest Mom, The Prairie Homestead, Time Warp Wife, Growing Home, Cornerstone Confessions, Raising Homemakers, We Are That Family, A Wise Woman Builds Her Home, Walking Redeemed, Raising Arrows, Graced Simplicity, Raising Mighty Arrows, and Happy and Blessed Home.
Free Guide For the Natural Living Mom
Want to know how to use essential oils and herbs in your home? In this guide, I share my top 10 favorites.
Plus get our latest content and news, including giveaways and freebies for the natural living and homeschooling mom.