Are electronic devices and media enriching our lives? Are they enriching our relationships with those around us? Or are they separating and distracting us from what's most important?
 See then that ye walk circumspectly, not as fools, but as wise, Redeeming the time, because the days are evil. (Ephesians 5:15-16)
Within the first five minutes of watching a review copy of the Captivated DVD, a film by Media Talk 101, the Scripture from Ephesians immediately came to mind. 
Captivated inspired me to take a serious look at my current media consumption. How am I using my time to best minister to my family? As a writer who uses a large amount of media for a platform, I try to be sensitive to my time online, but am I close to pushing the limits?
With a Christian perspective, the folks behind Media Talk 101 want to encourage viewers to examine how media is affecting their life and relationships with others. They aren't against media—but desire that people use discernment regarding the type and frequency of media they allow into their home.
When I first received the documentary, I expected it to be heavy on social media, since I've read much of how social media has impacted how we relate to each other—friendships are determined by who we "friend" or "unfriend" by who has or hasn't liked our status, etc.  But it doesn't end with social media– everything from television, movies, radio, video games, and the internet are covered.
As a mother, I also expected the film to be heavy on children's consumption of media, and while stats and reports were included, I quickly learned that no one is immune to media addiction as the stories of teens and adults were followed.
The screen time for the average American family is over 53 hours a week. (Dr. David Walsh from Captivated)
Among some of the things I found most interesting:
Regardless of the type of media, sleep is often disrupted for young people, whether it's from watching television late at night, teens sleeping with their phone under their pillow so they'll be awakened by a text, or nightmares after playing violent video games.
Some teens are getting carpal tunnel syndrome from excessive texting.
As a mother of young children, including children with special needs, I found the info regarding early childhood interesting as well:

A newborn's brain triples within the first three years of life and the more television children watch during this time, the shorter their attention span will be later. It's also believed that the more cognitive stimulation given (such as reading books to our little ones, singing to our babies, going to museums, parks, etc.) the less likely they are to have issues with attention span.
My thoughts immediately went to my years working in early childhood development, where television, radio, and other forms of media were strictly limited.
How did Captivated impact our family?
While Captivated is geared towards adults, I wondered if our children would glean info from the film. Sure enough, they did, and my ten year old son picked up several points. While visiting the lab during my pregnancy, he commented on all of the screens he saw. "Mama, they're right! There are screens everywhere! There are three in this office! There were two at the store! And you have a screen on your phone, the iPad, and your laptop! Why do we need so many screens?" What an insightful young man.

Different types of media fasts were presented in the movie, including the benefits each encountered–some whole families took part in a media fast, some participants were from a youth camp where they avoided media for a year, and others were adults dealing with media addiction. I found their stories inspirational, although I'm not sure if I could realistically cut off all media for a month, especially since we run a business which relies heavily on the internet, computers, and other electronic devices.
But since our usual routine is so heavily entrenched with electronics and wanting to best mother my little ones, I'm inspired to make wise choices regarding writing and social media.
Wrapping up Captivated are ideas for families who want to make changes regarding their media consumption, including:
planning out a week or two of activities for your family—things that you can do together

trying a new hobby

getting involved in the community
One family even discovered that they not only improved the health of their children—children who were facing the possibility of medication, but also improved their community. As the parents became more involved with their children, drug dealers and other negative influences upon the youth, moved out.
By the end of the movie, Ephesians 5 was mentioned, and one gentleman explained how time is slipping through our fingers like sand, which was the image I envisioned as the movie progressed! Wow! They got the point across to this mama from the get-go!

As a parent, I want to make every minute count with my children. Yes, it's important for me to use computers, the internet, my cell phone, etc, but I need to make sure that these devices are being used responsibly and that I don't allow them to become relationship replacements.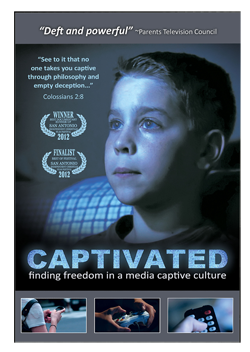 Want to view Captivated with your family?
With several packages from which to choose, you can purchase the DVD for $16.95 and there's even a study guide available. You can also choose from a variety of bundles for larger groups. When visiting the site, you'll also find a "Video on Demand" page, where can view the trailer and purchase downloadable episodes.
For more information on Captivated and Media Talk 101, visit their site, and follow them on Facebook and Twitter.


Free Guide For the Natural Living Mom
Want to know how to use essential oils and herbs in your home? In this guide, I share my top 10 favorites.
Plus get our latest content and news, including giveaways and freebies for the natural living and homeschooling mom.