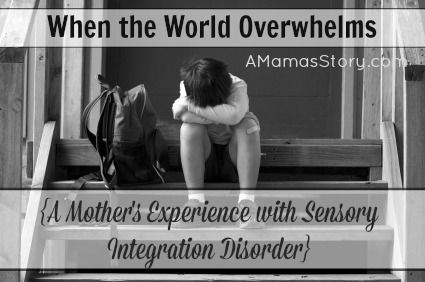 Guest post by Dallas from Along the Road
Seams in clothes
Shirt tags
Wind blowing through trees
Haircuts
Clipping fingernails
Large open areas
That is a list of things that can completely send my boys into a meltdown.
When our now 8 year old was first diagnosed with Sensory Integration Disorder, I was completely in the dark. I had no idea what Sensory Integration Disorder was or what we were supposed to do about it. Not long after, two more of our boys were diagnosed with SID. We have a sensory avoider and a sensory seeker. One is incredibly sensitive to noise around him. One loves textures and another hates to be touched without warning.
I am the mom that carries therapy brushes in her purse and in the truck. I have lotions for rub downs. I carry crunchy snacks, chewy tubes, a compression vest, and bath mats with texture. I limit trips to Wal-Mart, or any large open store. I limit "noise" in the house. We swing-often. There are therapy bands on the boy's school chairs. A box of fidget toys on the school table. We run stairs, crab walk and bear crawl as needed. We wear hunting earphones to block out sounds. We eat applesauce and pudding through straws. I let one wear his shirts inside out so the seams don't drive him crazy.
I am the mom that sees you in the store and I see that your child is beautiful and kind and sweet…he just has too much coming at him at once and he cannot process all of that stimuli.
I am the mom that will step in at VBS and ask if I can take your sweetie out to the park so he can move and jump and slide and you can take a break and breathe for a minute.
I see you and your little one and I see the worry on your face. I see how overwhelmed you feel and I don't judge you or your child. I don't judge that meltdown. Because I get it.
I get it, because I live it. It is my opinion that it's very hard to really understand, if this isn't a daily part of your life. And it does get better. The boys are learning how to meet those sensory overloads without my direct involvement. They know when it's time to go and swing. They know when it's time to get the headphones out. They know how to recognize how their engine is running and how to get it just right. Years of therapy and wonderful Occupational Therapists have been a huge help in that area!
Everyday I choose grace, mercy and compassion-for me, for my children and for you and your child as well. Some days I am better at it than others. I have learned over the past six years of diagnoses and therapies that grace and mercy must abound in our house.
—————————————————————————————————-
Dallas is the stunningly average homeschool mom to 4 boys. She loves Jesus, books, cupcakes, sharpies and vanilla cokes from Sonic. She is stubborn and opinionated. She can often be found chasing half-naked dirty boys around the yard. She loves her life and wouldn't have it any other way. You can follow Dallas on her blog or visit her Facebook Page Along the Road.
Free Guide For the Natural Living Mom
Want to know how to use essential oils and herbs in your home? In this guide, I share my top 10 favorites.
Plus get our latest content and news, including giveaways and freebies for the natural living and homeschooling mom.