"History? Oh, just memorize dates. That's all it is." Obviously my friend's dad wasn't a fan of history.  Not until I discovered learning history through living books and living history museums, did I find it relatable. I embraced this in my home school, but as my family grew and schedules changed, opportunities for experiencing living history lessened. How could I harness just a bit of the pleasures of living history in my home and make it work with our schedule? Enter Veritas Press.
When I first learned of the variety of the Veritas Press Self-Paced History programs, specifically the Explorers to 1815 curriculum, I wanted to know more. The curriculum corresponds with a matching deck of Explorers to 1815 flash cards, which I knew my children would like, but I still wondered:
How interactive will it really be?
Will it truly keep my child intrigued for a whole school year?
Will my child only see a variety of slide shows hyper-linked to other mediums, with glitches galore?
Friends who experienced Veritas Press and its online offerings, spoke of nothing but good; so, my 6th grade daughter and I jumped into our review opportunity head first!
Our immediate impression?
In my daughter's own words, "Wow!"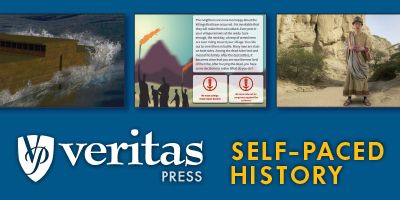 While not entirely the same as attending a living history museum, the characters in period dress, the background, the living books, animation, songs, games, and stories, brought history to life for my daughter—providing a
virtual living history
!
Not only is she learning about history (and retaining the knowledge), she looks forward to her lessons! When I answered her request to do a lesson with, "Tell you what, let's have breakfast first," I knew we had a winner.
Designed for grades 2nd through 6th, Veritas Press has created an enjoyable history program for a variety of learning styles that follows the Classical model of chronological history while maintaining a Christian point-of-view. The games and quizzes are challenging for older students; the main characters, Abigail and James, are a hit; and adding in an extra touch of entertainment, as well as contributing to lessons, is an animated totem pole named Ikuhabe. Younger students will enjoy watching him as he provides feedback, coupled with a touch of sarcasm, to the others. Some older students may find it juvenile, but my 12-year-old loved it.
What Does it Cover?
The Exploration to 1815 program includes 32 events, beginning with Prince Henry and allows the child to move at his or her own pace for a total of 160 lessons. Memory work is included but is enjoyable and not dry drill. While the main lessons and tests are online, hands-on projects and reading historical-fiction round out the program.
The Flash Cards:
No flimsy flash cards here! Full color pictures with printed facts for each event helped cement lessons for my daughter.
While not indestructible, they've held up well in our busy household with many littles. Usually after a few days, flash cards will crinkle or bend, but these look just as good as they did when they originally came out of the package. Below you'll find a video of my daughter singing the history song with the flash cards in hand.
The Parent and Student Portals:
On a typical day, my daughter signs into her account, clicks on "launch lesson," and the next lesson pops up. Easy! She can also access her assignments, see her grades, and view topic titles that are ahead.
Included is a document that lists supplies needed for hands-on-projects. As a busy mom-to-many, I appreciate lists that inform me of what I'll need and when I'll need them. There's also a document that lists the required historical fiction books, outlining the chapters to read for each lesson.
The historical fiction titles are divided into two levels:
level 1 is for 2nd and 3rd graders

level 2 is for 4th-6th graders
For example, in Level 1, students read The Courage of Sarah Noble while Level 2 students read The Witch of Blackbird Pond.
Within the parent portal, I can access the same documents and see her grades.
Since all of the required supplies and books are listed in the beginning, Veritas Press self-paced history could easily be considered "open-and-go" for the busy family. Or if your family is experiencing a difficult season, and you need your students who are capable of working independently to enjoy a quality history program, this is ideal. I wish I had this program during my seasons with morning sickness or months when therapy schedules changed or other times of transition.
My #1 issue with an online program is encountering glitches. I was pleasantly surprised. My daughter needed to refresh the page a few times, but I don't remember her having to do it more than three times during the entire review period.
And in the words of my 6th grader, "If you're looking for a fun history program for your child, Veritas Press is it!"
Here's a video of my daughter singing the history song with the flashcards:
Costs?
While many friends gave positive feedback of the self-paced history from Veritas Press, the $199 price tag seemed more expensive compared to other history programs we've used. But after we experienced it first hand, I think it's well worth the costs and is an incredible bargain and value. This program was provided to us in exchange for a review, but I was so impressed with the quality that I signed up two of my children into their programs for the upcoming school year.
Because of the self-paced set-up, scores, etc., the program is designed to be used with only one student, but they offer a sibling discount of $100. A family has twelve calendar months to complete the program. More time may be purchased for $25 a month. The flash cards are $19.95.
If you visit the Veritas Press site, you can sign up for a free two-week trial, and give it a test drive.
To learn more about Veritas Press and their resources for your homeschooling family:


Sharing with
A Proverbs 31 Wife
,
The Modest Mom
,
Time Warp Wife
,
Cornerstone Confessions
,
Raising Homemakers
,
We Are That Family
,
A Wise Woman Builds Her Home
,
Walking Redeemed
,
Raising Arrows
,
Graced Simplicity
, and
Happy and Blessed Home
Free Guide For the Natural Living Mom
Want to know how to use essential oils and herbs in your home? In this guide, I share my top 10 favorites.
Plus get our latest content and news, including giveaways and freebies for the natural living and homeschooling mom.