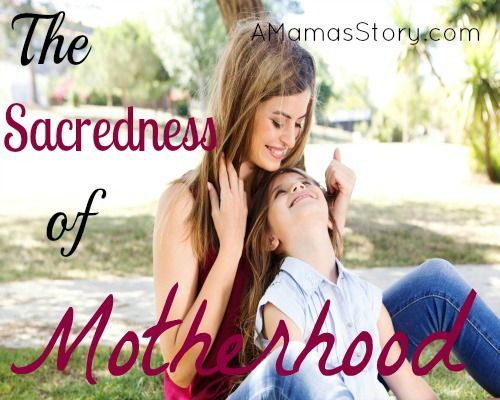 There is nothing spiritual about preparing meals, washing dishes or attending to crying babies, squabbling siblings, and rebellious teens. Or is there? Perhaps we are forgetting something.
When we believed on Jesus Christ to be our Saviour the Holy Spirit of God took residence within our heart. God is with us every second of every day. We often forget this truth when we face mountains of laundry while climbing Mount Never-Rest.
Think about it. The Spirit of God dwells in us. This means wherever we are, whatever we do, wherever we go He is there. Every moment of every day is sacred. Yes, even the mundane chores attempted in the chaos of little endearing tornadoes. All these moments are sacred moments.
Colossians 3:17 says, "Whatsoever ye do in word or deed, do it all in the name of the Lord Jesus, giving thanks to God the Father," and 1 Corinthians 10:31 states, "Whether therefore ye eat, or drink, or whatsoever ye do, do all to the glory of God." These verses indicate God is interested in our ordinary tasks. Every menial task and mundane chore should be done in the name of Jesus Christ for the glory of God in an attitude of gratitude.
We are fulfilling a holy profession when we change stinky diapers and wipe snotty noses. God is with us when we soothe aching hearts and kiss boo boos better. When we feel overwhelmed and unappreciated He is right there in the midst of our mess.
Our time spent in God's presence through Bible study and prayer is not the only spiritual moments of fellowship we share with Him. We have opportunity to draw on the Lord as we depend on Him for wisdom and discernment as we disciple children tending to their squabbles, attitudes and tantrums. We also show God's love as we embrace, cuddle and love on our children.
He is our strength, the source of our joy–joy which does not depend on how well behaved the children are or if our husbands take out the trash. When we walk continually in fellowship, the peace of Christ that surpasses all understanding will rest on us guarding our thoughts and words. His Spirit will teach us, change us and sweeten us. We'll be content, meek and quiet. As we abide in Him we'll become who He is to those around us.
Our occupation is not easy. The work is relentless, depleting our energy. It takes our heart and soul requiring commitment and discipline, then demands self-control, endurance, perseverance and sacrifice. Our time and rights are no longer ours. When we dwell in His presence though, we find in that place of surrender and self denial, a life living for Christ alone. We begin to radiate a Christ focused vivacity.
We are nurturers of God-given seed. We sharpen arrows and change nations. Motherhood is our divine calling. Once we own this vision, it will change our attitudes towards our husband, children and home. We will embrace mothering. Our days will no longer be seen as dull but delightful; it's no longer boring but stimulating; our trials turn into triumphs.
God is our employer, and He's given us a holy work in raising a generation for His Heavenly Kingdom. Mothering is and has always been a godly, sacred work. Our own opinions have deemed motherhood unimportant. It's time we aligned our misconceptions with the Word of God and viewed motherhood through heaven's eyes.
How can we become immersed in God's presence every moment of every day? I would enjoy bouncing some ideas around in an effort to inspire us in achieving this goal.
Marie is the bride of a faithful shepherd. She walks redeemed as a set-apart, homeschooled mother to five eternal souls. She lives in Victoria, Australia. Marie writes at Blooming in His Garden where she encourages mothers to flourish where they've been planted. She is passionate for Jesus Christ and desires to inspire wives and mothers to glorify God in all they do. When she has a free moment, you'll find her gardening, watching splendid fairy-wrens, reading or loving on her family. She loves new-born babies, blood-red carnations, and spiced Chai Lattes. Learn more about Marie by visiting her blog, Blooming in His Garden, liking her page on Facebook, following her on Twitter, Pinterest, and Google+.

Free Guide For the Natural Living Mom
Want to know how to use essential oils and herbs in your home? In this guide, I share my top 10 favorites.
Plus get our latest content and news, including giveaways and freebies for the natural living and homeschooling mom.