It's no secret. I have a heart for special needs children, and even more so for special needs orphans.
Being a mama to special needs children, my world was changed, turned upside down, and then completely blessed when I learned that I was a mama to one of these exceptional souls.
I honestly, really, truly, deep within my bones, believe that these children are here to show us something, if only we'd listen. The thought of these little ones being shut away in institutions breaks my heart, especially as I imagine how they could thrive within a loving, supportive, and stable family environment.

While going through the list of available children in need of a Christmas Warrior, Phoebe caught my eye, and I was thrilled to pieces to learn that I'd been assigned as her warrior this year. Phoebe is a little girl with Down Syndrome, a congenital heart defect, and congenital trichiasis, who was abandoned when she was 3-years-old. According to her description, she wasn't able to walk or speak, and she was in poor health. Now she's able to walk and is doing better physically, but she still cannot speak.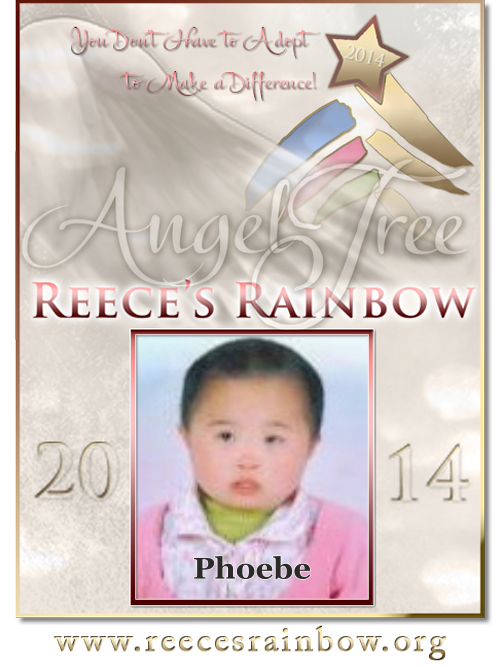 As a mama to special needs children, I know the importance of early intervention. In the US, we have wonderful, fantastic, and talented therapists available, but they're simply not available to Phoebe or other special needs orphans like her.
One can imagine that often times, behaviors and delays often get worse the longer a child is an orphan.
To help raise funds for Phoebe, I'm giving away $125 worth of Young Living product to one winner. The winner can choose whatever products they want!

Also, any advertising, sponsorship, or social media promotion packages purchased here at A Mama's Story, will go towards funding Phoebe's adoption, helping her forever family with their expenses.

And there's more!
When you purchase anything through my Young Living site, Lilla Rose site, or purchase through any of the affiliate links below, 100% of my commissions through the months of November and December 2014, will go towards Phoebe's adoption fund. Let's bless her Forever Family and help her get one step closer to home.
Here are just a few affiliates:
Bulk Herb Store (My all time favorite place for buying herbs and supplies! Need some ideas? The Double E Immune Booster and Cough Tea are mainstays in my home this time of year).
Vintage Remedies (Would you like to learn about natural health from an evidence-based perspective?)
Build-A-Menu (An amazing, money saving meal planning system. Use code BAMfor35 to get an entire year for $35–code is good through Nov. 30).
The Tummy Team (A great program to help those with Diastasis Recti.)
There are a few requirements and fine print.
The $125 can go towards any product you'd like, as long as they're in stock–essential oils, personal care products, cleaning items, gift sets, etc.
While I trust my readers, there are folks out there who may enter, stating they've shared or contributed but didn't. Yes, this makes me very sad. So if you're the winner, I ask that you fwd. me the time stamp from your contribution receipt (you don't have to send the actual amount, just the time stamp of the receipt will suffice) and please enter where you shared (twitter link, FB, e-mail, etc.) in the rafflecopter, when prompted.
Because of shipping and customs restrictions, this giveaway is only open to folks in the US and Canada.
The purpose of this program is to raise money to go towards her adoption. YES, Phoebe is available for adoption! If you feel led to adopt this little girl, please contact debbie@reecesrainbow.org
Free Guide For the Natural Living Mom
Want to know how to use essential oils and herbs in your home? In this guide, I share my top 10 favorites.
Plus get our latest content and news, including giveaways and freebies for the natural living and homeschooling mom.