Snake Oil – Party Potion, a game by Out of the Box Games, is anything but snake oil. Informally, "snake oil" refers to a worthless product, sold as a fix-all for whatever issue one suffers from. But, when you get this game, you're picking up a hilarious round of fun for the whole family. While it's targeted for ages 8 through adult, our 5-year-old even joined in, with some extra help from an older sibling or parent.
The greatest thing about the game is the simplicity– the rules are as straight-forward as they can be, and yet the game is as solid as any game that you may pick up from a larger gaming manufacturer.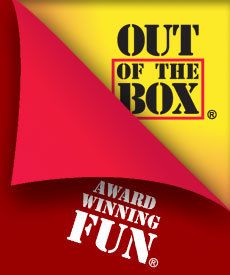 How to Play the Game
Simply pick one person as the customer and everybody else  (the salesmen) are handed six cards with a word on each. After learning about their customer (doctor, mad scientist, etc.), the salesmen choose two of their cards and use their imagination and wit to create a product that the customer can't live without. After hearing all of the arguments as to why their product is the best, the customer makes his or her choice, and that player wins the round!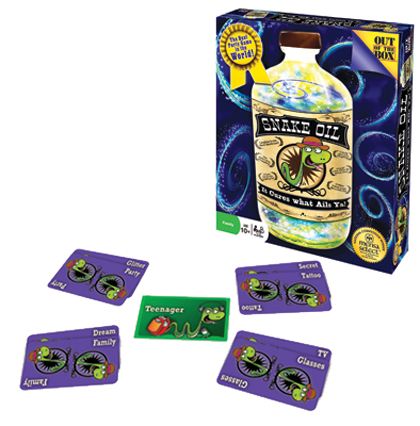 A couple of examples from our own rounds:
A mad scientist was sold a "spider satellite" which would allow him to control the satellite media and touch the world with his mad schemes–our 3rd grade daughter even added on a "Muwahahaha," because she felt it would help the customer believe she could relate to him and "speak his language." My marketing husband thought this was a nice touch, and we all found her creativity to be a delight.
I had to take a video of my third grader's second attempt to formulate an argument. Her expressions were priceless! After her third attempt, the customer chose her product, and she won the round.
And in another round, a doctor chose a "tickle cookie," because if laughter is the best medicine, then what better product could a doctor have than a tickle cookie? Sold! (And bring in the next customer).
Perhaps one of the greatest drawbacks of the game is sitting patiently while another player doubles over with laughter while explaining why their item is best. Laughter is contagious, and I don't think our family has laughed so much while playing a game. In an age of electronics and plastic breakable novelties, this is a must-have for family game night.
My husband starts off a round by explaining to the customer, a snowman, why his product, a galaxy trail, is superior to the others:
Snake Oil – Party Potion is targeted for ages eight through adult and for three to six players. Our six players ranged from ages 5-43. The only one who needed assistance was our 5-year-old. We loved hearing the creativity from our older children as they formulated a great argument for their products—that is, when we could understand them through all of the laughter.
Playing time can be as short as half an hour, although it wasn't difficult to go beyond. Each round is a new hand of cards, so the possibilities are endless. Since the same game is never played twice, students are required to build new vocabulary and polish their critical thinking skills even more.
The Fine Details
Being a large family with many littles, I appreciated how compact the game is and how well it's packaged. It's small enough to be safely stored in a kitchen drawer and durable enough (and just the right size) that the older children were able to play it in the van. So far, not a single card has gone missing. In our home, that's a very important factor when choosing a game. Nothing frustrates my husband more than finding a great, fun game at the store, only to find that it's been destroyed a couple of weeks later or that a couple of pieces are missing. Sure, there are other card games we can pick up, but none of them have fostered the hilarious interaction we experienced with Snake Oil – Party Potion.
Snake Oil – Party Potion retails for $14.99. If you're looking for a new game your family will love, our own family heartily recommends it!
Learn more about Out of the Box Games:


Free Guide For the Natural Living Mom
Want to know how to use essential oils and herbs in your home? In this guide, I share my top 10 favorites.
Plus get our latest content and news, including giveaways and freebies for the natural living and homeschooling mom.