Sometimes, what you need just isn't what you want.  Have you ever realized that?
As I was studying the book of James, I kept going back to James 1:2-4.
My brethren, count it all joy when ye fall into divers temptations; Knowing this, that the trying of your faith worketh patience. But let patience have her perfect work, that ye may be perfect and entire, wanting nothing.
I watched my son cry. It was difficult because I was the one responsible.  Because sometimes, what we need isn't what we want. 
What You Need Versus What You Want
We've kept no secret that he learns differently from other kids because we want him to understand it's OK to learn differently. We don't want him to feel as though he's doomed never to attain his potential.
After watching him struggle and not gain footing in various subjects, we decided to give him a different curriculum. This curriculum was different in many ways. First off, instead of only working a few problems a day, he worked four to six pages a day. These were four to six pages of the same type of mathematical function, over and over again. Sometimes this would take a couple of hours.
And one day he cried.
My son doesn't cry unless he's reached his limit. He begged me to stop, "Mama, I don't want to do this anymore. It's too hard."
As much as it hurt me to watch him, I knew we had to push forward. I looked into his swollen red eyes and with a steady, calm voice responded, "Keep going."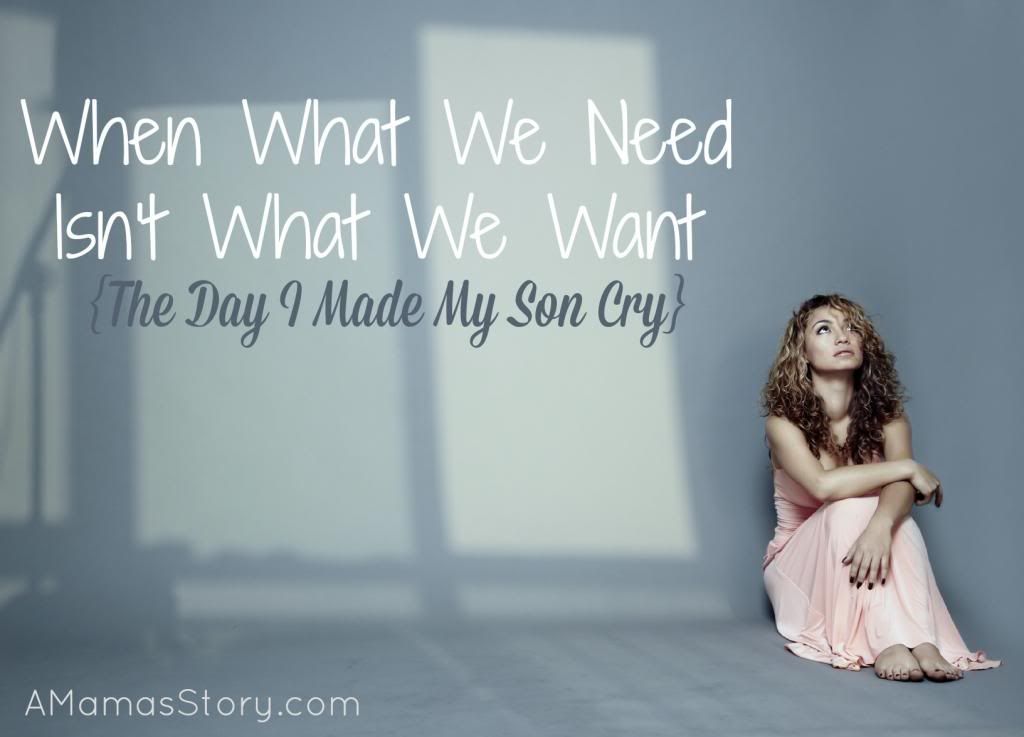 Throughout the years, I followed the philosophy that when a curriculum isn't working, we shelve it. If it led to tears, we put it away. We follow a typical attachment parenting lifestyle, so this was very an unusual change. But I also knew that this moment was important. I encouraged him as best I could and offered as much positive reinforcement as possible.  I knew that sometimes what you need is just different than what you want, and in this case, I felt like it would be better in the long run. 
A few weeks passed, the tears became fewer, and he even smiled, exclaiming, "Mama! I understand now!"
Turns out our young fella needed a mastery-based approach for a time. Was it fun? No! Was it how I planned our school year? Not at all. But I had to give my son what was needed rather than what he wanted, so that in the end, he could learn and grow.
What especially gripped me was reflecting on this while preparing for a follow-up ultrasound after the blood clot.
When I was first diagnosed, I felt things were out of my control, and they were! Upset and concerned over what my family would deal with if I didn't come out with a clean bill of health, I spent most of my days wondering if I needed to get my affairs in order, just to be safe.
I also learned quite a bit about myself, such as realizing that while I trusted God with my salvation, I struggled to trust Him with the everyday things. If I developed a pulmonary embolism that would take my life, I wasn't worried about where I'd spend eternity; I was more concerned about the people I'd leave behind. Would they be OK?
A few weeks before the last ultrasound, I started having pain again—not the same kind I did when the clot was first diagnosed, but enough that it got my attention. Oftentimes it even felt as though my leg was becoming a block of wood. My fear was the clot had extended or there was scarring that could lead to long-term problems.
By the time the appointment came around, I had peace. I realized, that God was reminding me he provided what you need and not always what you want.  I prayed, I followed the doctor's orders, my naturopath's suggestions, and knew that I did everything I possibly could. If for whatever reason, God had chosen not to heal my body, then I accepted that and knew all I could do was trust in His wisdom. My family would be OK, and so would I.
When the vascular surgeon said he would likely see some scarring or at least remnants of the clot, I explained that I'd done my research and was prepared.
Hearing that the clot had vanished without a trace  took everything in me not to cry happy tears.
The first few weeks after the birth were extremely trying for my family. I hated dealing with an illness I wasn't prepared for. I was healthy and active. Why did this happen?
Looking back, I can relate to my son. I can see how God allowed something in my own life that tore me apart emotionally, making me feel helpless, but resulted in me having a stronger faith!
As I sat next to my son, struggling as he begged me to take away his trial and my knowing the outcome, understanding that he would come out stronger and also never leaving his side, I understand the heart my Heavenly Father has for me and the importance of trusting His wisdom.  I knew sometimes what you need isn't what we want, but it is what is best for us. 
Being confident of this very thing, that he which hath begun a good work in you will perform it until the day of Jesus Christ ~Philippians 1:6
Free Guide For the Natural Living Mom
Want to know how to use essential oils and herbs in your home? In this guide, I share my top 10 favorites.
Plus get our latest content and news, including giveaways and freebies for the natural living and homeschooling mom.